LAVANDOU PLONGÉE's clubhouse
LAVANDOU PLONGÉE has been created in 1992 by Frank and Laurent AUGUSTIN.
It is an accredited scuba diving school approved by the French Ministry of Youth & Sport Affairs.
LAVANDOU PLONGÉE welcomes you all year round for exploration and training dives,
whichever organism issued your scuba diving level (FFESSM, CMAS, PADI, NAUI…).
At the clubhouse you will find:
A classroom
A filling station (75 m3/h) + high pressure air-reservoirs
A carpark area on the club's rooftop
Close by showers and toilets
Free Wi-Fi for our customers
You will also find a wide range of diving-equipment, selected with different manufacturers:
Fins, masks, snorkels, weight belts
6 mm wetsuits for women, men and children
Stabilizing jackets
Regulator and pressure gauges
Electronic depth meters
6L, 12L, 15L, 18L tanks and 6L decompression tanks
LAVANDOU PLONGÉE is a Beuchat Diving Center.
The scuba diving school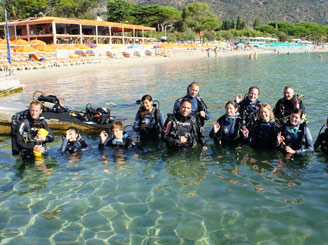 Member of the FFESSM (French Federation of Scuba Diving Studies and Sports).
LAVANDOU PLONGÉE offers international trainings, for all levels.
For children (from 8 years old)
There are several formulas: first dives, discovery package, Bronze, Silver or Gold Diver trainings.
(See all children trainings).
For teenagers and adults (from 14 years old)
There are several formulas: first dives, all level trainings, group or individual lessons
(See all teenager / adult trainings).
Your enriched air mixtures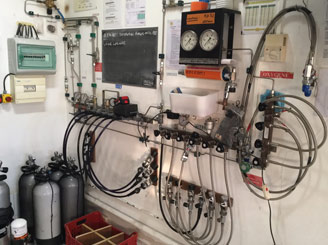 We offer you NITROX inflation till 100% oxygen.
These are meant for divers wishing to dive deeply or for a long time, with an optimized decompression.
Our NITROX stick and the HASKEL filling station (O2 booster) allow us to offer you NITROX 32% to 100% O2 mixtures. In addition, we appointed five 300 bars 50L high pressure reservoirs, dedicated to enriched air mixtures.
CE CCR are welcome. Bail-outs and whitewash are available at the club.